ICRS 2014 brought several authors to Atlanta. While it's impossible to catch up with all, let's peek into what's going on in the world of Christian fiction with excerpts from the following interviews.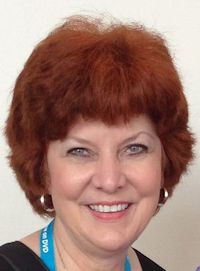 Angela Hunt shared a message she hopes people will take away from her latest release, Passing Strangers.
There is an angel character, the man with Morgan Freeman's voice. At one point Janette is sitting there feeling sorry for herself, and he says, "... you're not the only one suffering from heartache. The people you passed as you walked out this morning—your eyes only grazed the woman whose son is in prison for life, you nearly tripped over the foot of a young mother who just miscarried her baby, and you barely noticed the old man who is so lonely he comes downtown just to be near other people." And of course he knew, because he was a supernatural being, what was going on all around her, and he reminded her how much she missed by focusing only on herself. I think, especially when we're not dealing with a problem, we sit and we're fine, but we still don't pay any attention to the people around us! Maybe you're sitting somewhere and there's a woman who is quietly crying. How many of us would even have the courage to go up and say, "Can I help you with anything?" A lot of us think, "That would be too intrusive, too personal. It would be prying. I can't do that!" I think we're all on this planet together, and we ought to pay attention to passing strangers.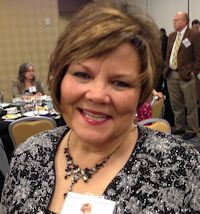 Cynthia Ruchti discussed the theme from All My Belongings of laying down our lives and doing the hard thing, even when it isn't convenient.
There have been caregiving times with my sick kids or grandkids that were hard to get through. Sometimes it can be as a new mom getting up with a newborn and wondering if he will ever sleep through the night! A little bit of reflection when I went through that time in 2012 caring for my husband after an injury and he needed total caregiving. There were days when I behaved very well as a caregiver and other days that I did not. In the middle of all that was that call to lay down my life. There's that call! But we are so good at ignoring that call. I love how the friends in All My Belongings lay down their lives for one another. How the core group of men—strong, tough, rugged, funny men—try to hold one another accountable. And when there was a crisis, they were there because they were laying down whatever was on their schedules for whatever the need. There's a lot of that in the novel. Some of it I didn't even realize until I was done with the book, and I traced back and saw that it came up again and again and again.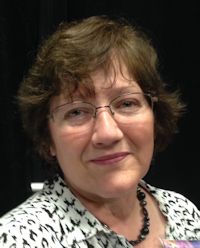 Hannah Alexander, author of Hallowed Halls, shared that she's a combination plotter and pantser. I asked if she hears her character's voices in her head.
No, but I have seen some of my characters on the street. Went running after one! And Mel went right along behind me. "Mel, that's Lauren!" Lauren McCaffrey, from one of our old medical books. "It's Lauren, it's really her! Wait a minute! I can't go up and talk to her.
She's going to freak out!" I have cried with my characters as I write. And I found myself praying for one of them. It's really creepy when you think about it!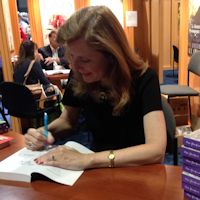 Irene Hannon's final book in her Private Justice series, Deceived, releases in October. She shares about an unusual experience she had writing one of her novels.
I can't say I've ever been totally surprised by the direction of a story, because it evolves naturally, and I let it go where it needs to go. I don't try to control it that much. I have been surprised, occasionally, by my characters. One of my darkest villains was really spooky and he scared me. I thought I knew him pretty well, and then five or six chapters in, he revealed he had killed his mother, which I had no idea he had done! I stopped typing in the middle of the page and said, "You did what?" But it made him a much more interesting character. The way the writer's mind thinks is pretty weird sometimes!
Karen Witemeyer, author of Full Steam Ahead, discussed her unusual writing process.
I'm also one of those strange authors who likes to edit as I go. I don't have a big session of writing creatively and then going back to layer and fix it. I'm a perfectionist. If I can't find the right word, I will sit there and work on that word until it comes to me, and then I'll move on! So I pretty much write one draft. I send each chapter to my critique partners, so I polish it as I go. When it's The End, it's the end, and I submit it. Of course, I get my editorial feedback and go back and make changes based on that. I'm odd. I think I'm in the low percentage of authors who do it that way!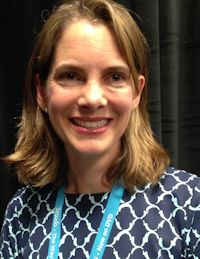 Katherine Reay's debut novel and 2014 Christy finalist, Dear Mr. Knightley, will be followed by Lizzy and Jane in October. She shares her thoughts on being an author.
The community is amazing. I didn't really expect so many interactions with readers. So many new friends who are writers. So many friends in the industry. Everyone is welcoming, generous with their time, their knowledge, their support, and their love. That's been incredible. I love what I do! I love wrestling with different aspects of faith and presenting it in different contexts for both Christians and non-Christians. I'm finding that there is a lot of nonfiction that goes into fiction, and I love bringing those themes in, hopefully in subtle enough ways, so they feel organic to the characters and to our lives.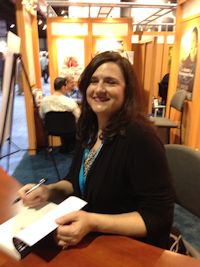 Lynette Eason writes award-winning suspense. Her second Hidden Identity novel, Nowhere to Turn, releases in September. She shares the most bizarre experience she's had as an author.
I visited the morgue. My mother-in-law was a hospital nurse before she retired and was good friends with the morgue technician. The technician took me on a tour of the morgue and pulled out an unidentified John Doe, only he was just bones. She showed me how they identify different things, such as age, and how they know it's a male, medical stuff. Then she put him away and got a call that they were bringing in two car-wreck victims. And she knew one of them. It was an older lady who had been a nurse at the hospital and had been hit and killed by a drunk driver. It was awful but it was interesting, too, if you can remove yourself from the emotional aspect of it to see what she had to do to prepare for them to come in. She also showed me all the autopsy stuff and explained how she used the saw and opened people's heads. It sounds sick, but it was really interesting!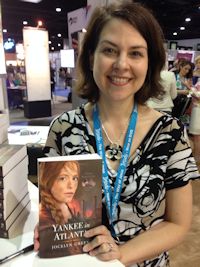 Jocelyn Green, author of the Heroines Behind the Lines series, including the recent Yankee in Atlanta, talks about the challenge of writing Civil War fiction.
I love research, but battle details, for example, can get tedious. I only put as much in as my character would experience, which means I don't have to explain the generals' strategies and exactly how many troops were where, etc. Plenty of other books do that. I strive to boil the Civil War down to the personal experiences of my characters. What did they feel, see, hear, smell, taste? If it's personal to them, and only if it helps move the plot forward, it will probably be interesting. If it isn't, I chop it out. I have pages and pages of "chopped copy" that just didn't make the cut. Battle scenes are always hard. Especially after writing the Gettysburg book, it was a challenge for me to describe shooting, being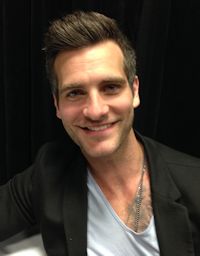 wounded, artillery, etc., in a different way. I want the scenes to be vivid but not graphic. The scenes that made me cry or feel sick to my stomach were the ones in which Ruby's son is in danger, and one in which a group of deserters were executed.
Alan Powell, lead singer of Anthem Lights, has a Christian fiction connection with his upcoming movie The Song.
I am passionate about this film. It's about a musician who's touring and gone from home a lot, and all the things that goes with that. I've been there. I play Jed, and in the film he asks Rose to come with him on multiple occasions. He's attempting to do everything he can to hold this thing together, and it goes awry. What I love about this movie from a marriage perspective is that it shows the flip side as well. But I drew from those similarities and conversations I've had with my wife, frustrations and ongoing issues we've had and what that does to a relationship. It was very exciting for me to be able to use those experiences to help encourage other people to prioritize their marriages. The film releases September 26, and there will also be a novelization, which will release between the film and the DVD releases. "We've been talking with the author, Chris Fabry, and he's been coming up with some back story. "We're excited to see what he does.
---

---