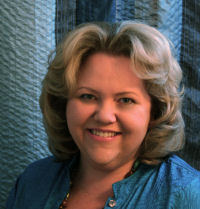 "Christian, wife, mom, writer, speaker—hopefully in that order! Everything else is just gravy" This is how author Mindy Starnes Clark defines herself! With more than fifteen published works in her collection, Clark enjoys her craft and uses it to encourage and entertain others in their Christian journey. Her life is filled with blessings, and she praises God that no experience is ever wasted but used to glorify God.
Your journey to publication was one of dedication and lots of alternate jobs from travel agent to floral delivery girl. Tell us a little about that journey and why it was so easy for you to stay dedicated to becoming published.
Easy? No. Driven? Yes. I think I was just one of those people who was born to write and never really had any choice in the matter. Truth be told, I can't not write.
In college, I wanted to be a writer, but I wasn't sure which of my three biggest fantasies I wanted to come true first: New York Times best-selling novel, Broadway musical, or Academy Award for Best Original Screenplay. Believe it or not, I assumed that at least one of these would be a given by age twenty-five—at the very latest. Boy, did I have a lot to learn. My first year out of college working as a freelance writer, I sold exactly one article—which paid all of $75.
Realizing that my fantasies might not happen as quickly as I had planned, I surrendered to the notion of a "regular job" and took a position as a travel agent. I needed the money, I loved to travel, and I figured as a writer it wouldn't hurt to see the world, especially at a discount. Fortunately, the work itself turned out to be a lot of fun, and the travel benefits were incredible. I continued to submit my writings on the side, but I still wasn't selling more than the occasional small piece.
In 1987, I moved to New Jersey to get married. Tired of the travel business by that point, I took a job at a computer software company, in the marketing department, where I wrote promotional materials and advertising copy, and later moving over to the technical writing department, where I eventually wrote and/or edited more than seventy-five computer software manuals.
In my off hours I was still trying to get published, and when one of my scripts won a major contest, I decided to refocus my freelance efforts toward scriptwriting—a great decision. A couple in our church put on many of the plays I was writing. Once my scripts had been performed and refined, I began submitting them for publication in the church and school market. Much to my astonishment, I finally started getting acceptances rather than rejections!
I was about twenty-seven when I held my first published one-act play in my hands. It wasn't exactly my biggest dream come true, but it was still quite thrilling. Though my plays and musicals continued to sell, I still didn't have much luck with other kinds of writing.
When my husband and I started our family, I pushed my writing to the back burner, as much as I could. Though I dearly love being a full-time mom—and that had always been an far bigger dream of mine than being a writer—when the kids were little some days I felt like a roiling mass of pent-up creativity. God bless my husband, when he could see that happening, he would always take over on the home front and send me off alone to write. When we moved to the Philadelphia area, he encouraged me to go to writer's conferences, which ended up being absolutely essential to my future as a novelist. (If you want to be a writer, get yourself to a good writer's conference.)
Money was tight in those early years, so once the kids were in school, I took my share of part-time work to help pay the bills. That's where the delivery jobs came in. Still freelance writing in my spare time, I used the skills I was learning at conferences to try my hand at several "practice" novels. Each one was a little better than the one before, but none of them were good enough to publish.
Back then, I had never heard of Christian fiction. All I knew was that the lead characters in these practice novels were falling flat, and deep inside I began to wonder if that was because I hadn't included any spiritual components with their characterizations. God was at the center of my life; couldn't He be at the center of my heroines' lives as well? I decided to give it a shot, even though I hadn't a clue whether I would ever be able to sell such a thing or not.
Once I included Him in my work, He began moving mountains! Creatively, I felt like I was on fire, and by the time I had finished that manuscript, A Penny for Your Thoughts, I thought it was good enough to try to sell.
Sure enough, A Penny for Your Thoughts—number one in a five-book series called the Million Dollar Mysteries—ended up being my very first published novel. It came out twenty years after I'd graduated from college. Though it certainly hadn't been easy to continue writing for such a long time, in retrospect I wouldn't change even a single minute of my journey. God had His hand on all of it, and even now I'm still finding new ways that He continues to redeem that time.
Your books are primarily mysteries, but you have also published nonfiction titles. How do you switch genres so easily? Which is your favorite? Most satisfying?
Writing fiction is fun but incredibly difficult, while writing nonfiction is easy but after a while can become tedious. That's why I love being able to switch back and forth between the two. Sometimes I just can't write another novel. So I'll do a nonfiction—and have a great time doing it—but when it's finished I'm tired of it and ready for fiction again. The two types of writing really do pull from the opposite sides of my brain, so it's nice to alternate once in a while, much like cross-training for an athlete.
How does writing plays and musicals differ from novel writing? How did you learn the craft?
The "pre-work," if you will, of laying out the plot and the characters for a play is much the same as that for a novel. But when it comes to the writing, it's very different. For me, playwriting is far easier, as if the lines jump straight from my brain to the page. I can pump out the rough draft of a play in far less time than I could write the same number of words in a novel format. Not sure why that is. Bizarre, huh?
In college, I took classes on many different types of writing (short stories, poetry, etc.), but my university did not have a single class on playwriting, despite the fact that they had a thriving theater department. In my senior year, I complained to the dean, and much to my surprise he offered to let me create my own course in the subject. In the end, I was given a textbook on playwriting, a syllabus, and three professors! One was an expert in directing, one in set design, and one in acting. Alternating between the three, I met with one of them each week for a semester, doing my assignments and working through the textbook between teaching sessions. My final exam was to turn in a full-length play. I'll always be grateful to Clemson University for agreeing to accommodate me in that way, and to the three professors who so generously worked with me to teach me their craft.
You have recently begun a series set in the Amish community, another switch in genre. Tell us how the idea for this series was born.
We live in Pennsylvania not too far from Lancaster County and have visited the area for years. I was always curious about the Amish, and eventually I found myself wanting to explore their world through fiction. When pitching some new mystery novel ideas, I included one set in Amish country. My publisher loved the idea, and that book became Shadows of Lancaster County, my first Amish-related mystery.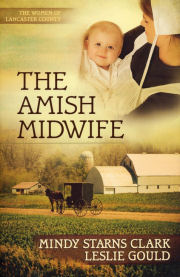 My brain was ready for a break from fiction by then, so with some trepidation, I agreed to give it a try. I took a far more personal approach, slowly getting to know members of the Amish community and learning from them firsthand. Not only did I meet some delightful people, but I developed a tremendous respect for their faith walk. In the end, writing A Pocket Guide to Amish Life was both deeply rewarding and great fun. By the time it was finished, I felt much more confident in my knowledge of the Amish and ready to write more about them in fiction and nonfiction.
Can you tell us about your latest project? What about it excites you most?
I am having so much fun with this new series, The Women of Lancaster County. Book one, The Amish Midwife, is my first non-mystery fiction, cowritten with Leslie Gould.
We're both really pleased with how The Amish Midwife turned out, and we've just finished putting the final touches on the next book in the series, The Amish Nanny, which will be released in July. After two books, I guess you could say we've become somewhat of a lean, mean writing machine. It's a real hoot, some of the most enjoyable work I've ever done. I never thought of writing as a lonely profession, but once
I got a coauthor I discovered what a pleasure it was to have someone going through it along with me, step by step, sharing both the burdens and the joys.
Speaking of joys, Leslie and I got some big news yesterday when we found out that that The Amish Midwife is currently #1 on the ECPA best-seller list! So I guess you could say that what excites me most is that people seem to enjoy reading it as much as we enjoyed writing it. That's incredibly rewarding.
You are the mother of two daughters. Do either of them share your love for writing? What do they think of your books?
Emily is a junior in college with a double major in English and theology. She is an amazing writer, far better than I was at her age, and a very gifted editor as well. She tutors students in the college's writing lab, works as a proofreader for the school newspaper, and is a writing fellow for the communications department. Yet she's not nearly as ambitious as I was and has no big dreams of penning best-selling novels or Broadway musicals or Oscar-winning screenplays. She may end up doing all three, of course, but she isn't driven like I was.
Lauren is a freshman in college, hasn't yet declared a major, but seems more interested in business or science than in English. She's an excellent writer, especially in factual or journalistic-type endeavors, but she doesn't enjoy the process of writing at all, especially not fiction. Weaving a story with words is definitely not her idea of a good time! Still, she's a great source of help for my writing, frequently providing me with character names, opening sentences, or whatever other little things I ask for her input on.
Lauren enjoys reading my books and gives me incredibly helpful feedback after each one. Emily, on the other hand, has a hard time reading them at all—not because she doesn't like them but because she can't seem to separate my stories from me.
What is the most exciting thing God has taught you as you follow Him in your writing career?
First, absolutely nothing along the way was wasted because He can use it all. Hindsight is 20/20, of course, but when I look back at my life and all of the various jobs I had along the way, I can see how He has used every single one of them to help my current career.
Second, the more I can take myself out of the picture, the more He can use me. When I surrendered my heroines to Him, He blessed me with publication. When I started surrendering my entire books to Him, He blessed me with a widening audience. It may have taken a long time to get here, but I am thankful that none of this happened the way I wanted it to! God's timing really is the best timing. After all, only He can see the "big picture" of our lives. Only He knows what we truly need, exactly when we need it.
Even now, it seems the more I surrender the more I receive—though often in ways I didn't expect at all. And isn't that how He always works? I'd always thought the most exciting thing in the world would be to have a best seller, when in fact it is far more thrilling to hear from a reader whose life has been impacted in some way because of something I wrote. Having a Broadway musical would be a kick, but no way could that ever compare with the deeply rewarding relationships I have developed within the Christian publishing industry. And there's no award in the world—not even an Academy Award for Best Original Screenplay—that could begin to feel as good as the sweet look of pride on my husband's face when he interacts with my fans, or the tears in my daughter's eyes when she finishes one of my books and says how much it moved her. What God had in mind for me was far better than anything I ever could have envisioned. I just had to get out of the way in order to realize it.
Do you have any words of encouragement you'd like to share with others who are on their own journey to publication?
Stick with it, hone your craft, and be patient—but most of all surrender your talents to Him. Work hard at learning and improving and giving your very best effort, but trust Him to take your writing exactly where He wants it to go, in the timing that He desires for you. Truly, what He has in mind for you is way better than anything you could ever dream up for yourself. I'm so glad I finally figured that out, even if I did have to learn it the hard way.
---

---
Kim Ford has been a resident of Alabama for more than ten years. Originally from Georgia, she holds a Bachelor's degree in English from Brenau Women's College. She has spent the past 9 years in sales and marketing and has been an avid reader of Christian Fiction for more than 20 years. A mother of two teen sons and married to a technical writer and Army veteran, Kim's life is full and blessed. She and her husband also volunteer as teachers for a resident rehab program for women with life-controlling issues. She uses her fiction to encourage the ladies she teaches. She blogs at: Window To My World